Great Taste Of Apple Not The Vinegar.
Featuring a complex blend of 500mg apple cider vinegar, folate, beet root and pomegranate extracts, and Vitamin B12 this all-in-one supplement helps naturally cleanse the gut, liver, and colon to support function.
These pure apple cider vinegar gummies may aid in helping curb your appetite and increase natural energy levels, which are essential for staying active and helping maintain diet or weight management efforts.
Wellness Begins with Good Gut Health.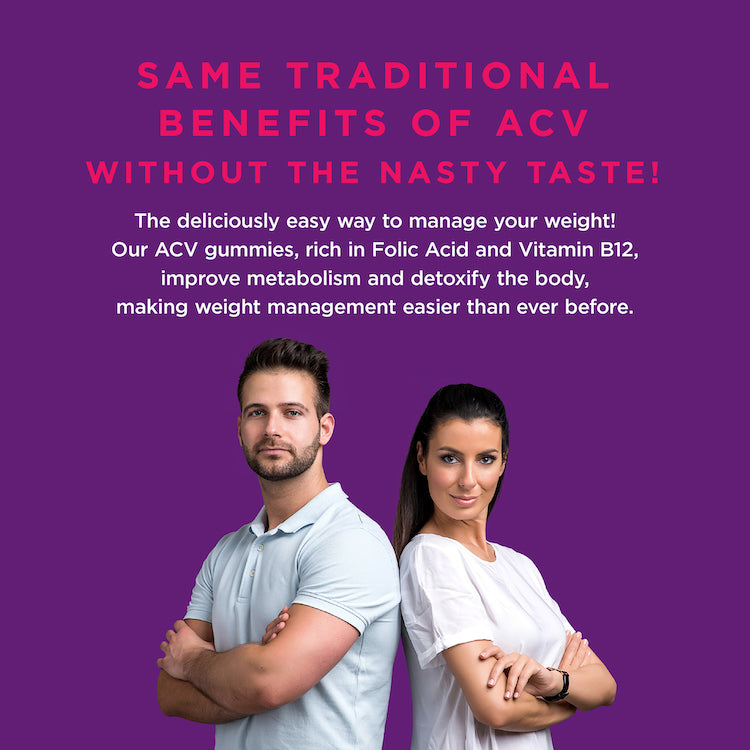 INSIDE THE GUMMY
Apple Cider Vinegar

Our premium apple cider gummies retain the mother's goodness, offering the same traditional ACV benefits without compromise.

B12 & Folate

NutriBears gummies are fortified with essential B12 and folate that help in cellular energy production & overall health.

Pectin

Our gummies are made with pectin derived from citrus fruits, making them a perfect vegan-friendly treat.

Beetroot & Pomegranate

Thoughtfully infused with beetroot and pomegranate extract, our gummies offer an enhanced flavour profile, effectively eliminating any vinegar taste.
What's in:

Natural Apple Cider Vinegar, Natural Beetroot extract & Pomegranate extract, Pectin, Essentital Vitamin Blend.

What's out:

Artificial sweeteners like Maltitol, FOS & Sorbitol, Synthetic Vitamins, Artificial Colours & Preservatives.

Suggested for:

These gummy vitamins are suggested for teens and adults, aged 13 and above.

Dosage::

1 gummy a day! For best results take it regularly for 6 months.
"Hey, You know what's old? Drinking ACV. You know what's new? ACV gummies. Trust me, you'll thank me later."
Overheard in a gym somewhere.
*Officially confirmed, NutriBears Gummies are not Candy.