Get your daily dose of sunshine with vitamin D gummies.
Soaking up the sun provides your kids a wonderful way to boost their Vitamin D levels, but you don't always want them to gain too much exposure and damage or dry out their skin.
That's why we created a smarter, safer year-round solution with Nutribears Vitamin D Gummies. Providing a healthy boost of Vitamin D that can impact mood and focus our gummies give kids the support they need through every season, change in the weather, and busy classroom packed with friends.
Promotes Positive Mood and Enhances Calcium Absorption.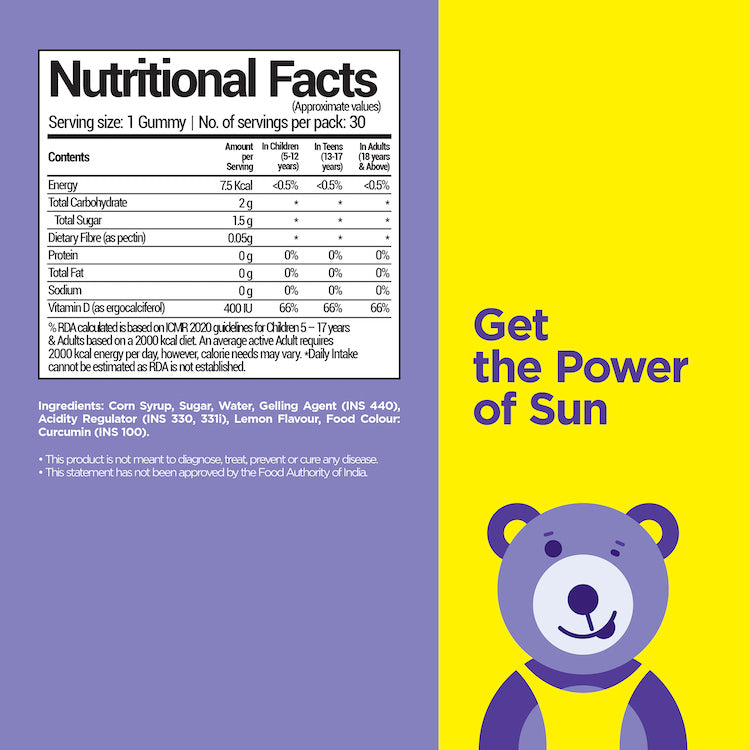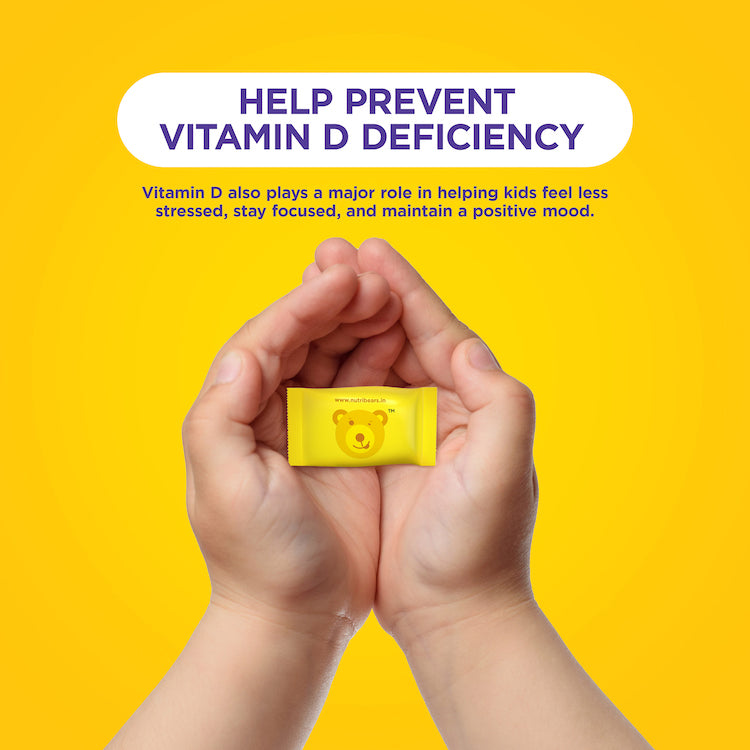 INSIDE THE GUMMY
Pectin

Our gummies for kids are made with pectin derived from citrus fruits, making them a perfect vegan-friendly treat.

Vitamin D

Our each gummy provides 400 IU of vitamin D, which helps in the absorption of calcium and help boost your child's much needed Vitamin D levels.

Natural Flavour

The unique and natural flavour of lemon helps to provide a delicious smell and taste.

Natural Colour

We have used yellow colour derived from curcumin giving it a very natural appearance.
What's in:

Pectin from Citrus Fruits, 100% Vegterian Vitamin D, Natural Sugar, Curcumin Colour and Natural Lemon Flavour.

What's out:

Artificial sweeteners like Stevia, Maltitol, FOS & Sorbitol Xylitol, Isomaltitol, Mannitol, synthetic vitamins, artificial colours & preservatives.

Suggested for:

These gummy vitamins aren't just for the kiddos aged 5 to 17 years; even adults can indulge in some yummy treats!

Dosage:

1 gummy a day! For best results take it regularly for 6 months.
"Vitamin D Gummies: The sunshine in my day!"
As heard in the indoor playground.
*Sorry Candy, NutriBears Gummies are a healthier alternative.